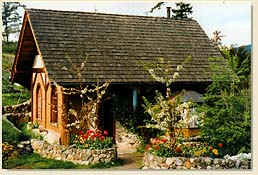 You will feel like the owners of this San Juan Islands vacation rental estate cottage. You will feel welcome, secure, and inspired. The now famous Gnome House -- what a treat -- a one-of-a-kind, hand-crafted, timber-framed Orcas Island cottage constructed with massive timbers, cedar arches, and hand carved tree trunk posts.
The Gnome House truly inspires every visitor. "..an architectural gem.." "How did you build those arches? " ...never seen anything like this before..." " like a fairy tale..." "..how did you fit that floor to the stonework..." "I would love to live in the Gnome House.!"
The magnificent San Juan Islands in the Pacific Northwest and the romantic courtship of it's owners inspired this Orcas Island Treasure. Come discover this delightful site of many a honeymoon, many romantic evenings, one of the true romantic getaways...
...let it take you away....
Click on these small pictures of the Gnome House to see larger pictures

We designed and crafted the Gnome House to stir up your imagination.
A few of the hand-crafted features...
...a wooden spiral staircase with carved squirrel and acorn newel posts
...leading to a very romantic master loft with a queen-sized sleigh bed
...a fairytale-like Scandinavian alcove cupboard bed with delightful murals
...a

garden

peek-a-boo view sunken tub bathroom
...a fine shipbuilder's bay window dining and reading area
...surrounded by a flower

garden bench overlooking the birds

and the bees
... a completely unusual, charming, yet modern full kitchen
... a romantic, cozy wood-burning stove
... a Scandinavian sofa/double bed perfect for relaxing or guests sleeping
...a fabulous, private hot tub spa under the stars
...a large stone fire pit surrounded by seating, for campfires

...a perfect family vacation rental cottage - children and grandparents love it
...go to Gnome House page 2 for a whole lot more..........
to learn more click on the words below

page one

page two

MANOR

Page one

MANOR

Page two

SEASIDE COTTAGE

SEASIDE COTTAGE

GNOME HOUSE

GNOME HOUSE

MAGGIE'S MANOR

MAGGIE'S MANOR

MAGGIE'S

SEASIDE COTTAGE

MAGGIE'S

SEASIDE COTTAGE

ALL RENTALS

ALL RENTALS

ALL RENTALS

ALL RENTALS

FUN TO READ

ALL RENTALS

WASHINGTON
SALMON RESTORATION

2014

PAGE ONE

Parcels in the Connor Estate

Now For Sale.