Inside Maggie's Manor you will find a large, gracious living room full of antiques and a concert grand piano.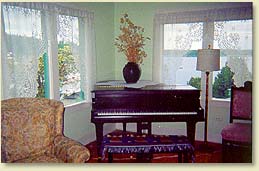 The family-sized dining room invites long, leisurely meals around the ample antique table. With two bedrooms and one bathroom on the main floor and two additional bedrooms and another bathroom on the second floor, eight people (ten with the addition of two roll-away beds) can be accommodated comfortably for your memorable Orcas Island family vacation.
Maggie's Manor includes all the comforts of home: dishes, linens, telephone, TV, and washer/dryer. Plus the delightful spa under the stars. Enjoy this gorgeous classic island home, newly remodeled, waterfront to the south and 110 acre wildlife preserve and wild natural organic farm to the north. Your perfect romantic getaway or family vacation...
Find your own private paradise on Orcas Island, Gem of the San Juans, by reserving some special time at Maggie's Manor. You deserve this! Reserve this remodeled beautiful home starting at only $199/night and only $1199/week see RATES for exciting new incentives to give you unprecedented advantages for trying Maggie's Manor soon. RATES are based on the number of guests who will be staying.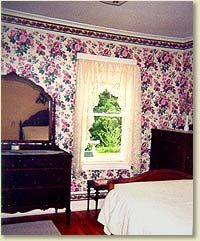 Check AVAILABILITY now for your vacation...Video Tour
Family reunion tip: linked with the two other "next-door" rentals, up to 20 people can vacation together, making a large get-together vacation possible.
to learn more click on the words below

page one

page two

MANOR

Page one

MANOR

Page two

SEASIDE COTTAGE

SEASIDE COTTAGE

GNOME HOUSE

GNOME HOUSE

MAGGIE'S MANOR

MAGGIE'S MANOR

MAGGIE'S

SEASIDE COTTAGE

MAGGIE'S

SEASIDE COTTAGE

ALL RENTALS

ALL RENTALS

ALL RENTALS

ALL RENTALS

FUN TO READ

ALL RENTALS

WASHINGTON
SALMON RESTORATION

2014

PAGE ONE

Parcels in the Connor Estate

Now For Sale.
For more information and reservations:
E-mail us at connor@centurytel.net
Or call now: 360-376-4223 and 360-376-2480.
P.O. Box 148
Deer Harbor, Washington 98243