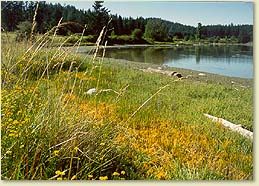 As a guest at the Gnome House or Maggie's Manor you will be able to enjoy our 110 acre Wildlife Preserve and Farm. Immediately adjacent to both cottages, this preserve is like having your own country estate just outside your door. Take your binoculars along when you hike through three thousand feet of tidal lagoon waterfront, where you'll see eagles, heron, otters, deer and other Pacific Northwest wildlife. With miles of trails for hiking, or strolling, our personal Wildlife Preserve is a naturalist's paradise.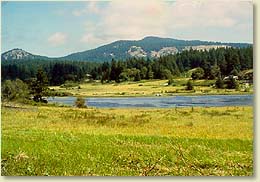 Maggie's Manor and the Gnome House are located on the western side of Orcas Island, in beautiful Deer Harbor, Washington. Orcas Island, the largest of the San Juan Islands archipelago, is called The Gem of the San Juans, and with good reason. From the moment your car pulls off the ferry and onto the winding country road, Orcas Island evokes wonderful feelings of contentment and amazement. Your travels take you through rolling hills, forest, farms and lakes and over some of the most picturesque coastal roads in the country. Balmy summer weather, protected waterways, the beautiful trails of Moran State Park, excellent restaurants, and a talented community of artisans combine to make your vacation on Orcas Island an unforgettable event.
Estuary Photos taken October 23, 2002

| | |
| --- | --- |
| | |
| View North from Bridge | View SW from Cayou Cabin |
| | |
| View NNE from Potlatch Rd | View of our Estuary |
| | |
| Otters' Lair | Wild Apple Seedlings |
| | |
| Fields in the Fall | North to Fish Trap Creek |
Check availability
2010 now for your vacation...
If you have time, look at this beautiful photo taken by one of our guests at Maggie's Manor last year. Photo courtesy of Steven Levi taken with telephoto lens while he was out in his boat.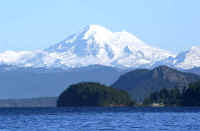 Click to enlarge
to learn more click on the words below

page one

page two

MANOR

Page one

MANOR

Page two

SEASIDE COTTAGE

SEASIDE COTTAGE

GNOME HOUSE

GNOME HOUSE

MAGGIE'S MANOR

MAGGIE'S MANOR

MAGGIE'S

SEASIDE COTTAGE

MAGGIE'S

SEASIDE COTTAGE

ALL RENTALS

ALL RENTALS

ALL RENTALS

ALL RENTALS

FUN TO READ

ALL RENTALS

PAGE ONE

RECOMMENDED

WASHINGTON

SALMON RESTORATION

OUR STORE

OUR STORE

2004

MAGGIE'S MANOR

OCHO CASCADAS PENTHOUSE

Some June weeks available!

Our Super Luxury Villas!

Our private estate for sale.
For more information and reservations:
E-mail us at conno

r@centurytel.net
Or call now: 360-376-4223 and 360-376-2480.
P.O. Box 148
Deer Harbor, Washington 98243